"Make Him Your Quality Backup"
October 2nd, 2014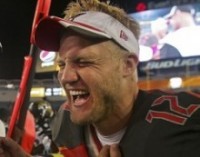 More national members of the Mike Glennon Mob have emerged, and they're also wondering loudly about the Saints' pass defense, which hasn't had an interception this season.
Prickly Pete Prisco and former Bucs scout and Jets coach and personnel chief Pat Kirwan got together to talk about all things Bucs-Saints on CBSSports.com.
Kirwan wants to see a lot more from the Saints safeties and is astounded New Orleans don't have a pick this season.
Kirwan also says there's no reason to play Josh McCown –"make him your quality backup" — unless Mike Glennon is hurt. Like others, Kirwan says the Bucs must see what they have in Glennon in order to know if they have to draft a QB with their next first-round pick.
Prico and Kirwan also predict the Saints-Bucs final score. Enjoy the video.