Lovie's Nightmare
October 29th, 2014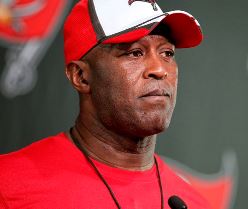 Go ahead. Raise your hand if you thought this Bucs this season would be at rock bottom through seven games? Worse than with Raheem Morris. Worse than with Greg Schiano, maybe worse than Richard Williamson?
Joe sure didn't, and Joe doubts anybody saw this coming.
Morris had a bad team his first year, but he was a first-time head coach, maybe in over his head, with a limited budget. Schiano had the MRSA poisoning his locker room and his franchise quarterback went mental.
Lovie has had none of these issues, though like Morris, he did lose an offensive coordinator.
This is a complete and utter nightmare. Not even Morris or Schiano or Williamson got alley-beaten twice in 24 days like Lovie has, only to return lifeless on offense after the bye week. It is a mess. Even the "Custodian of Canton," eye-RAH! Kaufman of the Tampa Tribune, tried to make sense of it all.
Lovie Smith played the key role in shaping the TB roster & staff, so whether it's lack of talent or poor coaching, the Buc stops with him

— Ira Kaufman (@IKaufmanTBO) October 28, 2014
Through 7 games, Bucs have failed to hit Lovie Smith's traditional landmarks — running game, takeaways, special teams, pass rush.. — Ira Kaufman (@IKaufmanTBO) October 28, 2014
Other than that, how was the car ride, Mrs. Kennedy?
While Joe contends the defense showed life Sunday — you hold a team to 13 points in regulation and you should win — this is still a trainwreck of a team, already jettisoning two guys who began the season as defensive starters.
Fan apathy is the worst Joe has experienced. At least with Schiano, all the drama kept fans engaged.
Joe cannot imagine what is going through the minds of Team Glazer about now.