Lovie Serves Up A Question For Fans
October 13th, 2014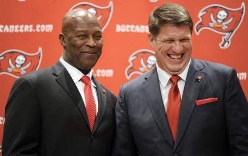 The leader of Lovieball, Lovie Smith, had a firm message for fans today.
And the head coach also offered up a question at his afternoon news conference.
Asked how he respond to Bucs fans who are upset by the team enduring horrific blowout losses in the first six games, Lovie had plenty to say.
"I would say first off, I'm disappointed, too. That's what I'd say to [fans]," Lovie said.

"It's like I would say also. It's like when you're in a game, you don't crown anyone the winner of the game during the game. We're disappointed right now, is what I would say. We're disappointed right now also. But let it all play out. Yeah, I've said that before, but the game isn't over yet. And that would be my statement. Give us time. We'll continue to get guys back, and there's a lot of football left to go.

"If we were 6-0 right now, would you start buying your Super Bowl tickets? You have to just hold on a little bit is what I would say. And I don't listen to talk radio. And I don't have to. I know what's out there. We're all disappointed right now. … That will change, though."
First, Joe is happy to answer Lovie's question about Super Bowl tickets. Yes, coach, legions of fans would be making plans for the Super Bowl, if the team was 6-0. Not all, but a lot more than Lovie might think. In addition, Joe's sure Lovie's comrades in the Bucs' front office, with a 6-0 team, would be promoting the heck out of the fact Bucs season pass members get a guaranteed playoff tickets to purchase, and a shot at tickets to the Super Bowl.
That's the NFL, Lovie. It's a rollercoaster ride and fans are dying to ride the high, however long it might last.
Unfortunately, the current regime has only provided one high: a glorious win in Pittsburgh versus five painful losses, all brutally agonizing for different reasons.
Yes, Joe understands Lovie's plea for patience. The lunatic fringe that expects Lovie to be fired in October and/or make drastic changes to his coaching philosophy, well, those folks are nuts. Lovie deserves more time.
However, if Lovie can't right his ship by the end of the season, Joe wouldn't quibble with any fan calling for revolution.