Living In Hester's Shadow
October 21st, 2014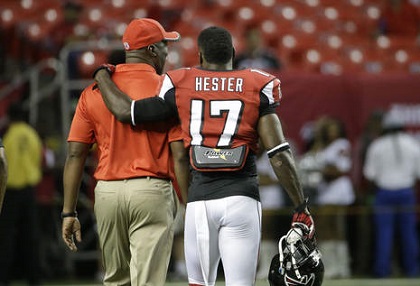 Bucs opening-day returner Solomon Patton, who replaced Eric Page, was cut today. He was replaced by newcomer Trindon Holliday, as Page sits on the Bucs' practice squad after being plucked from his couch last week.
Lovie Smith is finding that life after Devin Hester isn't so pretty.
Of course, the great irony is that Hester wanted to play for Tampa Bay this season. And the Bucs had — and still have — the salary cap room they would have needed to sign Hester. Also, Hester would have been a legitimate No. 4 or No. 5 receiver for the Bucs. But now he's on the Falcons.
So was Patton that bad through six games, or was he a victim of Lovie expecting a lot more from his return game after so many seasons with Hester in Chicago? That answer will live inside Lovie's head for eternity.
What is known is that Lovie, without naming names, has spoken about wanting more spark from his return game recently.
Joe suspects that if Holliday doesn't provide that quickly, then Lovie will keep searching for it.