Licht: Charles Sims Is "Way Ahead Of Schedule"
October 6th, 2014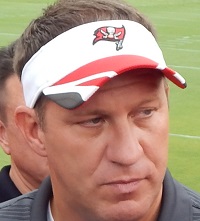 Good news is on the horizon. Joe hopes it soothes the excruciating pain of the overtime beating in New Orleans.
Yesterday, Bucs general manager explained there's a shake up coming at running back.
Rookie RB Charles Sims, the third-round pick with silky hands out of West Virginia, is "way ahead of schedule" rehabbing his surgically repaired ankle, Licht told the Buccaneers Radio Network pregame show.
"We're looking forward to having him back against Cleveland," Licht said.
That Nov. 2 date in Cleveland is the first game in which Sims would be eligible to play, per NFL rules for players given the tag of "injured reserved designated for return." If healthy, Sims would be permitted to practice with teammates after Sunday's Week 6 game against the Ravens in Tampa.
Sims broke his ankle in practice Aug. 12 and had surgery. His recovery was estimated at 12-to-14 weeks. Last week, Joe saw Sims walking through the Bucs locker room without a limp or noticeable support.
Mike James might not be long for Tampa Bay, assuming there are no injuries at running back before Sims returns.