Johnthan Banks "Falling?"
October 6th, 2014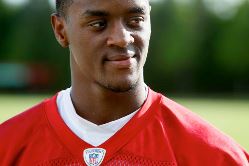 Joe isn't sure why, but it sure seemed as if Lovie Smith was doing his best to replace cornerback Johnthan Banks. Shoot, Lovie even went out and signed the notorious Mike Jenkins, and despite Jenkins missing virtually all of training camp and preseason, Lovie insisted Jenkins was a starter.
Joe watched closely and just shook his head. Mike Jenkins!
Jenkins got hurt opening day. Yesterday, Banks had a hit and miss day. Pat Yasinskas of ESPN.com believes it was more miss than hit.
FALLING

Cornerback Johnthan Banks. He had his first interception of the season against the Saints. But Banks also committed a hands-to-the-face penalty in overtime that kept New Orleans' game-winning drive alive.
Look, Banks will be just fine. He's a good player, and young player and a talented player. He made a mistake, yes. It wasn't like he lost the game for the Bucs. You should have seen how upset Banks was in the locker room after the game. He knows he goofed up.
There is a lot of blame that can be tossed around. Singling out Banks, who otherwise did not play that badly, is a bit of a reach.