Jameis Watch: Strong Praise From Derrick Brooks
October 28th, 2014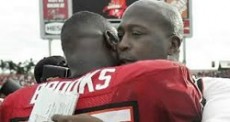 With Tampa Bay having the worst record in the NFC, and the NFL's 32nd-ranked defense (yards allowed and points allowed) Joe's already devoting attention to the NFL Draft.
And that brings Joe to the man who now seems to be the coveted quarterback prize as the Bucs try to build a Super Bowl contender.
Welcome to another edition of Jameis Watch, offering a nugget on crab-legs-stealing, BB-gun-shooting, obscenity-hollering, Heisman-Trophy-winning, national champion Jameis Winson, the pride of Florida State University.
Today, Joe brings recent comments from Bucs icon and Florida State icon Derrick Brooks, who talked about Winston with Steve Duemig last week on Tampa-2 on WDAE-AM 620 last week.
Brooks talked about Winston's seemingly endless gamer performances in the second halves of games, when he inevitably goes on a run of 10+ completions that put his team in position to win.
"For whatever it is, despite everything else, when it comes to playing football, you've got to tip your hat to this kid because he's been able to get it done," Brooks said.
No. 55 said he's had private talks with Winston and those will remain quiet, but Brooks did share that he is impressed by what transpired through those talks.
"I'll just say this. All of my conversations with Jameis? He's been receptive to the information. I have never left a conversation feeling this kid didn't listen to me," Brooks said. "Now after that, and what he goes out and does with that information, speaks for itself. But for my personal conversations with him, and I'll say this til the cows come home, this kid's been been very respectful and very receptive to everything I've had to say to him. … … People are saying this kid doesn't listen. I disagree. "
You can hear much more Winston talk from Brooks starting at about 14:00 of the audio below.