Intel Overrated?
October 23rd, 2014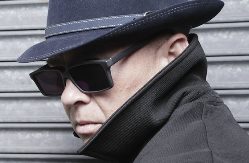 Joe always snickers at how NFL teams think they are guarding the secrets to the Manhattan Project the way they play NKVD. It really is amusing.
Like the high school espionage that Lovie Smith practices with who will start at quarterback for the Bucs this week, as if teams don't have video on both guys. (hint: The Vikings beat the Josh McCown-led Bears last year).
Even Lovie's own acting offensive coordinator Marcus Arroyo seemed to throw cold water on all this OSS-like paranoia yesterday, during his weekly meeting with the local pen and mic club. He was asked how much he is leaning on Bucs defensive coordinator Leslie Frazier, who coached the Vikings last year, for intel.
"It always helps to have someone who knows the players, that's probably a key that you hit on right there is the players, because the schemes are going to be a little different with different coaches," Arroyo said. "But if you get anything from guys that you maybe – you watched the tape and then you ask if there is anything that we don't know that we don't see on tape and obviously he knows those guys pretty well, without getting exactly into what those details are. I think it helps to have that in any capacity, whether it's a coach or a player who was on the team, as well as things that I know circulate or happen.

"Leslie has obviously been one person that we can bounce some stuff off of and, "Hey we see this from this guy' or 'We see this and that; is this right? 'This looks like this' – it helps, you can gain a little bit. I don't know how much of an advantage it truly gives you."
NFL-types have read way too many Tom Clancy novels or have watched too much 24. When a team is 1-5 and all-around awful, Joe thinks it is much more prudent that said team improves its own play rather than trying to pull some 1950's cat-out-of-the-bag stunt by trying to surprise an opponent with their choice of starting quarterback.
The Bucs have a whole lot more problems than trying to play Jack Bauer or Red Reddington. How about developing a pass rush first, or how about a consistent run game, or maybe even a pass defense? Once those items are accomplished, then you go out and try to be Race Bannon.