"Guys Were Looking Around Waiting For Somebody Else To Make A Play"
October 14th, 2014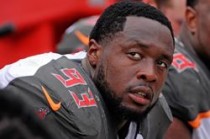 Joe's still flummoxed by how flat and lifeless the Bucs came out on Sunday.
How does that happen, and why does it continue through an entire first half?
Former Bucs tight end Dave Moore, the team's radio analyst, took a stab at that mystery.
"Guys were looking around waiting for somebody else to make a play," Moore said on WDAE-AM 620 yesterday.

"It seems to snowball on this team for some reason. And it's one of those things that if you figure you, you could make a ton of money."
How could Joe not question the character of the Bucs? Teams don't get steamrolled twice early in a season unless they've quit on their coach or are woefully talent-challenged. But the Bucs haven't quit and they have talent?
Maybe the bye week is a good thing for the Bucs, more time to look in the mirror and agonize and focus. Joe hopes that's the case, versus the alternative, guys planning spa days and January vacations.
(You can listen to all of Moore's analysis via the 620wdae.com audio below. Joe will bring more nuggets from it later this week.)