Good-Bye, Trindon Holliday
October 31st, 2014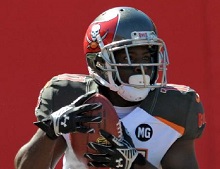 Last week, the Bucs were all jacked up about their new, accomplished, plucked-off-the-street returner, Trindon Holliday.
Now he's gone.
In a flurry of bottom-of-the-roster moves today, the Bucs bounced Holliday (waived with a hamstring injury). It's unclear whether it was the same bad hamstring he had with the Giants before they cut him earlier this season.
It looks like practice squad call-up wide receiver Marcus Thigpen could be the return man in Cleveland, though Joe suspects Bobby Rainey will get the call.
Greg Schiano spent most of 2012 searching for a reliable returner. It looks like Lovie Smith is doing the same dance.