Glennon's Saints Grade: "C+"
October 9th, 2014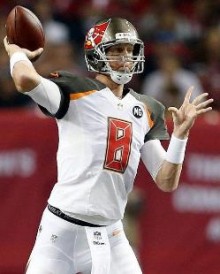 An experienced former NFL quarterback studied film of Mike Glennon and has weighed in with an assessment of Sunday's effort in New Orleans.
Glennon was good, he said, but nowhere near great.
"I think he competed, which was good to see, but I guess expect that at this level. I still want him to have better ball location," said former Bucs quarterback Shaun King on WDAE-AM 620 today.  "I still feel like about five, six times in a game he has a clean pocket and he misses some throws that he should make. You know, if he can kind of get a little better on that, then he's got a chance to continue to get better.

"I still think his ceiling is a lot lower than some of the elite guys in the league. But he was serviceable in New Orleans. He didn't play terrible; he didn't play great. Somewhere in the middle. If you ask me to give him a grade, I'd say C+."
Joe was excited by Glennon's performance, but Joe also agrees with King and his grade.
Was Glennon victimized by drops? Yes. Did Glennon miss his share of opportunities? Sure. But Glennon was more than good enough Sunday to get a victory on most afternoons.
Joe's happy to take that, as Glennon shows the Bucs and the NFL whether or not he's got what it takes to be a consistently good NFL starter.