Glennon Describes His "Recess" Moment
October 8th, 2014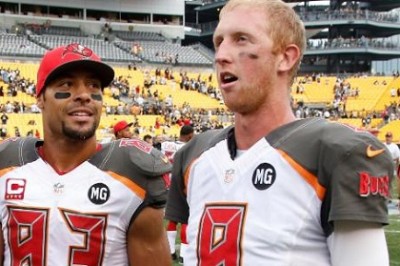 Is there anything more exciting in Tampa Bay Buccaneers world than Mike Glennon right now?
Sadly, nothing compares on the defensive side of the ball, or on special teams.Glennon's roll-left, throw-right touch pass to V-Drops Vincent Jackson on Sunday was a moment that made the entire NFL community take pause Sunday. (Here's the video) Lovie Smith even compared Glennon's play to a former mobile-QB superstar.
The Bucs' starting quarterback got a chance to elaborate on that eye-opening completion via his radio show last night, the one that used to feature Josh McCown on the Buccaneers Radio Network.
"A lot of times when you're rollin' out coverage kind of breaks down and it essentially turns into recess and you just find the open guy," Glennon said. "And if nothing comes open, throw it away. And sometimes it's better to take those extra yards with my feet, but also sometimes it's better to hang in there and let the play develop and try to make something out of it.

"It's definitely not something we work on in practice. Like I said, I mean it's recess. It's just making a play, you know, it's definitely an awkward arm angle. Just flicked it out to him and [Jackson] did a great job on the play. … That's what you do in the backyard when you're 10 years old; you run around and someone gets open and you throw him the ball."
How bout Glennon talking like he's a mobile quarterback at heart. Joe sure hope Glennon keeps it all in perspective.
On Sunday, Glennon might get more time than usual to sit in the pocket. The Ravens have just five sacks this season (26th best/worst in the NFL).