"Gerald McCoy Is Not An All-Pro"
October 15th, 2014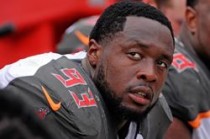 Joe likes how real Gerald McCoy is. Ask him an honest question and you get an honest answer. Joe really appreciates candor.
So Joe was more than impressed yesterday when GMC, speaking before a large gaggle of the local pen and mic club, stated flat out he is unworthy of postseason honors he has received in the past.
Why? Because the unit he leads, the defense, is currently an awful trainwreck of a crew.
"Everybody has to self-evaluate, starting with myself," GMC said. "2013 is over. Gerald McCoy is not an All-Pro – that was in 2013. Sunday, he didn't play like an All-Pro. It's easy to make excuses. You can say, 'I got double-teamed most of the passes,' – which I did. You can say it was quick [passes] – which it was. But there comes a point in time where all the greats figure it out. Me personally, I work to be one of the greats. Sunday, just kind of disappointed in myself – it's unacceptable. The way we lost, I put it all on me because our performance was not up to par.

"Right now, you're only as good as your last performance, and right now, Gerald McCoy is very average, and I can accept that. I will accept all the scrutiny, I can accept all the criticism because criticism and stuff only comes when it's earned, and right now, I earned that. People are looking for leaders – [the] outside is looking for leaders. My performance on Sunday was not the performance of a leader, so I have to do some real soul-searching and some heavy evaluation on myself because I have to improve."
You want to know the brutal truth, and Lovie sort of hinted at it in his postgame eulogy? The Bucs, aside from Lavonte David as of this writing, have no one else helping GMC. Football is not a one-man gang.
Sunday, the Crows' offensive line had one goal and one goal only: stop GMC and take him out on each and every play. They were not worried about Michael Johnson or Clinton McDonald or Will Gholston or Da'Quan Bowers.
Take out GMC, the Crows thought, and Joe Flacco will have time to throw. They did and he did.
The Crows neutered GMC and no one else with the opportunity handed to them on the Bucs' defensive line took advantage. Joe thinks it is noble of GMC to shoulder the blame. Rather, it should be shared by the guys who lined up next to him.
Oh, and GMC had a message for those angry that he helps up his opponents when plays end: Deal with it.
To hear more from GMC, click the button below. Audio courtesy of Joe's friends at WDAE-AM 620.