"Full Steam Ahead With Mike Glennon"
October 3rd, 2014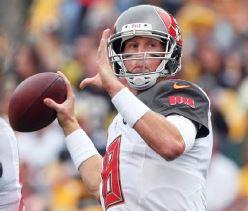 Lovie Smith has danced the dance of quarterback talk, not showing his hand whether the quarterback of the future is now, or whether a turnover-prone journeyman will get his gig back.
Despite the rope-a-doping, the "Custodian of Canton" is not swayed. eye-RAH! Kaufman of The Tampa Tribune declared the rest of the season is a "referendum" on Mike Glennon through the remainder of the season, no matter McCown's health.
Making his weekly appearance with the one and only Chris "Mad Dog" Russo on the station that bears his name, "Mad Dog Radio," part of the family of sports channels heard exclusively on SiriusXM, Kaufman declared Glennon the starter for the next 12 games, barring injury.
eye-RAH! Kaufman: One thing about Glennon, and I told you this going back to last year, the kid doesn't look scared. And he doesn't look like the moment is too big for him. I think the rest of this season from a Bucs perspective, Chris, it is going to be a referendum on Mike Glennon and whether they have to draft a quarterback in the top-ten again.

Chris "Mad Dog" Russo: Is he starting? When is McCown going to be healthy again? What's up with him?

eye-RAH!: I think you are looking at four to six weeks with McCown. He still can't grip the ball. He didn't practice [Wednesday]. This is Glennon's team right now, Chris. And unless he flubs up and starts throwing picks all over the place – and he didn't do that last year as a rookie – I don't see him doing it right now. I think it is full steam ahead with Mike Glennon and McCown is going to have to accept that backup role.
Joe has referenced previously that McCown clearly is not the man after his three-game showing, and while he may be a leader, that trait is overrated, especially while coughing up footballs right and left. What is he going to lead, how to throw lollipop interceptions?
Let Glennon start the rest of the season, and then in January you have 26 game tapes of Glennon starting. That should be ample evidence to decide if Glennon truly is the quarterback of the future, or if the Bucs go fishing for Brett Hundley.