Frustration
October 24th, 2014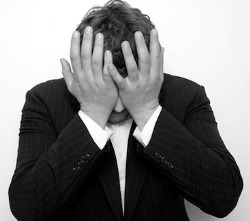 The beginning of the Lovie Smith regime offered so much hope. A man who knows how to build defenses and make the playoffs with a Tampa Bay pedigree was coming to save the Bucs.
Bucs fans were giddy. Still searching for that first playoff win since Chucky hoisted the Vince Lombardi Trophy aloft in victory in January 2003.
Lovie would finally get the Bucs over the hump.
Eight weeks into the season, it is the polar opposite. The Bucs defense has never been worse. The Bucs still cannot pressure quarterbacks, which Joe is convinced has become a team tradition. Major free agent signings have been, thus far, major swings-and-misses, and 2012 draft picks have turned invisible.
Fans have responded predictably. They have checked out, feeling conned by another season that turned to draft talk before Halloweeen. It doesn't help that the Bucs suffered a pair of their worst losses in team history within 24 days.
If Bucs fans are frustrated — and they are — a "rejuvenated" Custodian of Canton, eye-RAH! Kaufman of The Tampa Tribune, has comforting words. Speaking in a TBO Bucs podcast with Olivia Stacey, Kaufman says the coaching staff is equally searching for answers.
"Lovie Smith, again, who talked about special teams, who talked about turnover ratio and also talked about establishing a dominance at home," Kaufman said. "Those things haven't happened. So, that is why Lovie Smith and that coaching staff is so frustrated."
Still, the record shows 1-5 with a division leader with three losses. Joe understands the NFC South is a cesspool, but even with that knowledge, Joe cannot bend his mind into thinking the Bucs are a playoff contender. It defies logic.
Even with this depression, Kaufman offered hope for Sunday against the Vikings.
"I'm not looking for a 38-0 win but the Vikings are very ordinary," Kaufman said. "There is nothing special about the Vikes. They have a rookie quarterback. This team [the Bucs] was embarrassed [against the Crows] and when a team on this level gets embarrassed, they usually bounce back. I think Bucs fans are counting on that."