Free Agent Repercussions
October 30th, 2014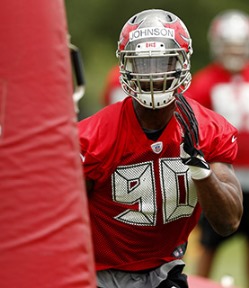 When Team Glazer hired Lovie Smith in January, ending a months-long courtship, one concession Lovie must have had from Team Glazer was an allowance and freedom to spend big time on free agents.
While we are not quite at the halfway point of the 2014 season — the Cleveland game this Sunday will be game No. 8 — thus far the Bucs' new free agents haven't exactly been lottery winners. Let's take a quick look:
Michael Johnson (DE): Thus far, invisible. Yes, he is dinged up. But if his ankle is rendering him useless, Johnson shouldn't even be on the field. Thus far, a truly awful signing.

Josh McCown (QB): What can Joe say? The guy had three dreadful starts, was a turnover machine and was benched for the quarterback of the future and the quarterback of the past.

Anthony Collins (OT): Sketchy. He's had good games and woeful games, none more so than last week against the Vikings. Now he is hurt.

Alterraun Verner (CB): Maybe the only free agent signing that has panned out, but he isn't playing up to his All-Pro level. Yet.

Evan Dietrich-Smith (C): Serviceable. Nothing special. Not exactly a great signing, but not a Johnson-type signing either.

Mike Jenkins (CB): BUHAHAHHAHHAHAHA!

Brandon Myers (TE) : Production (16 catches, no touchdowns) is way down from his previous two seasons with the Giants and Raiders.

Clinton McDonald (DT): Disappointing. Brought in from the Super Bowl champs to rush the passer, but can't capitalize on Gerald McCoy being double- and triple-teamed.
Recent offseasons, when Team Glazer gave permission to run free with their checkbook, were a colossal waste of cash. At least Dominik hit on Vincent Jackson and Carl Nicks (stop it with blaming Nicks' injury on Dominik; that's idiotic. Nicks never missed a start with the Saints. If Dominik is to blame for Nicks' toe, please cough up that crystal ball of yours so Joe can get this weekend's lottery numbers).
Because the Bucs have swung and missed far more than they have hit on free agents, especially this past year, the "Custodian of Canton," eye-RAH! Kaufman of The Tampa Tribune, wondered aloud whether Team Glazer may take its checkbook away from Lovie and force general manager Jason Licht to resume building through the draft.
That's what Kaufman told Booger McFarland this week on WHFS-FM 98.7.
"I think we are looking at another overhaul [of the roster in the offseason," Kaufman said. "And I am wondering whether the Glazers are going to give Licht and Smith the go-ahead to sign another [batch] of free agents because, guys, let's be honest, this year's did not work out. It did not."
It's an interesting thought. Since Dominik's free agent haul just prior to the 2012 season, the Bucs are a shameful 12-27.
Team Glazer, who for years publicly preached building through the draft, had a much better record prior to 2012. Once they gave Dominik and Lovie permission to use the checkbook, the team has fallen off the cliff. So why would Team Glazer give Lovie yet another chance to toss tens of millions of dollars away when the front office is better off going on vacation when the free agency dinner bell rings?
It is an interesting observation. Because this year's free agent class has been so dismal thus far, it could be the last time the Bucs are big-time players in free agency for a while.