Doug Martin Gets The Boot
October 29th, 2014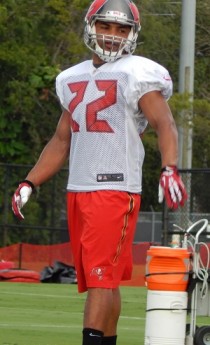 The downward spiral of Doug Martin continued today at One Buc Palace.
Per the Twittering of scribes attending the session of practice open to media, Martin was on the sidelines.
He was wearing the dreaded protective boot around his left foot, noted TampaBay.com beat writer Greg Auman.
The boot on Wednesday usually means no chance of playing Sunday.
As Joe noted earlier, Charles Sims is not 100 percent but should be active.
Bobby Rainey should be the bell cow, and considering Mike James came out of mothballs Sunday for one play — a fourth-down rush for a first down — he should get his share of work, too, in Cleveland.
Joe suspects Martin's bad wheel really killed any potential trade opportunity before yesterday's league trading deadline.