"Do I Really Have To Answer That Question?"
October 31st, 2014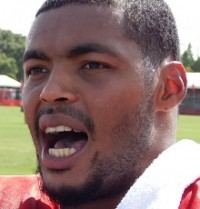 Was Jonathan Casillas happy to be traded from the Bucs?
Remember when Casillas, this year, said how much he missed playing for the Saints?
For Joe, that was one weak comment coming from a Buccaneer.
Reports claim Mark Barron was "shocked" to be dealt to St. Louis this week. But Casillas appeared to be in much different kind of spirits when the New England media got ahold of him. The Bucs sent the linebacker/special teamer to New England with a sixth-round pick for the Patriots' fifth-round pick in 2015.
Consider this exchange yesterday with ESPN.com.
Casillas was asked how it feels to go from the 1-6 Bucs to the 6-2 Patriots.

"Do I really have to answer that question?" Casillas said.
Joe's read many interviews with Casillas this week and none include him talking about how hard it was for him to leave Tampa. By contrast, Casillas, as of last month, will talk about his brothers on the Saints like they're family.
In one interview, Casillas talked about how Tim Wright, the former Bucs tight end with a stunning 17 catches on 18 targets this season, reached out to him for a hearty welcome to New England.
Outside of local media, chatty Casillas had few Bucs fans in his corner. He made some plays but didn't do a whole lot and was hurt often during his season and a half with Tampa Bay.
And, frankly, his heart likely was never in Tampa.
Good riddance.