Big Game Coming For Mike Evans?
October 30th, 2014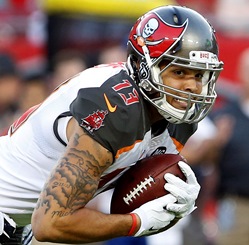 Yes, Joe was as surprised to read the following as you might be.
The Browns have the best pickoff artist in the NFL. Tashaun Gipson and his five picks lead the NFL. He has eight picks in his last 10 games and three in his past two games.
In other words, the guy is on fire. So it would help Bucs quarterback Mike Glennon to stay away from this guy.
What does that have to do with Mike Evans? Plenty.
Joe is going to take a stab and believe Gipson will cover Vincent Jackson more often than not. That should leave Evans with lesser coverage, and Glennon should be targeting Evans until Gipson moves off Jackson.
Glennon spoke about Evans and his development yesterday.
"I think he's a guy that's definitely getting better every week," Glennon said. "I feel like he's playing faster. I imagine he's probably just getting more comfortable out there. He's definitely one thing that I took away from that game [against Minnesota] being a positive – his play and his ability. We always knew how talented he was and now he's really showing it against some really good players and it's exciting because with him, Vincent [Jackson] – it's going to be hard for those guys to pick [who to cover]. We're really happy with Mike and his development."
Gipson and the Browns' defense is one reason for the stunning turnaround of one of the most woebegone franchises in the NFL. First-year coach and defensive minded Mike Pettine took over a team that was 25th in the NFL in takeaways and now they are fifth-best.
To hear more from Mike Glennon, click the button below. Audio courtesy of Joe's friends at WDAE-AM 620.