Anthony Becht Questions Playcalling
October 13th, 2014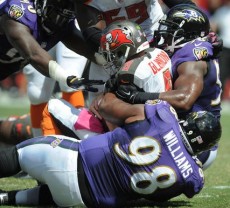 Joe never understands why some fans claim former Bucs tight end Anthony Becht, now an analyst on the Buccaneers Radio Network and Buccaneers.com, is too pro-Bucs and won't criticize the team.
Those bitter fans just aren't paying attention.
Becht shoots it as straight as anyone.
Speaking on WDAE-AM 620 this morning, Becht shared his frustration with the Bucs' lack of adjustments and playcalling.
"Offensively, listen, you're down 14-0, you gotta change the plan up a little bit. We can't let Mike Glennon stand back there and take a five-, seven-step drops and take hits and shots every single series," Becht said. "You gotta get something else. You gotta get the ball out of his hands.

"You gotta go in your playbook and your playsheet and say, 'Alright, we gotta find plays here where we can get the ball out of his hands to at least get some completions and get a few yards. Let's run some slants. Let's to some flat-and-gos.' We weren't able to do that. And we just got caught down way too much, way too fast, and now whole thing blew up in our face."
Yes, it wasn't just the players who got punched in the mouth by the Ravens' offensive and defensive lines, it was the Bucs' coaching staff, too. They had no answers, no adjustments, no fight of their own until it was way too late.
Players have to come to play, but coaches must come to coach.
After the fierce, embarrassing beating by the Falcons in Atlanta last month, Lovie Smith the team now had a scar it would wear forever. So what do the Bucs have now? A gaping, MRSA-infected open wound?