Yesterday, Today And Tomorrow
September 22nd, 2014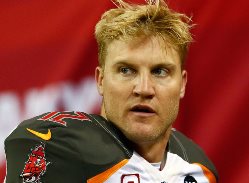 A long look at the Bucs yesterday, today, and what to expect tomorrow and beyond.
So we begin today with changes. Oh, yes, there will be changes with the Bucs. Exactly what and how many will soon be determined, maybe as early as this afternoon.
We know one likely change: Unless turnover-prone quarterback Josh McCown has a miraculous recovery, it is Mike Glennon's job to get the Bucs their first win of the season Sunday in Pittsburgh. No matter who the quarterback is, good luck with that.
The beat up Bucs are 0-3 and a woeful, ugly, unnerving 0-3. Losses to slug Derek Anderson, neverbeen Austin Davis and getting skinned alive by Matty Ice have all but ended the season. Only five times in NFL history have teams rallied from an 0-3 start to make the playoffs (one being John McKay in 1982). It hasn't happened since 1998.
Given the quarterback situation, the inconsistent running attack, the defense (healthy or otherwise) that struggles against the lamest of quarterbacks, the non-existent pass rush and injuries, Joe is not sure how anyone can concoct a reasonable argument the Bucs can turn things around in a hurry.
Not when the next three quarterbacks you are facing will be Ben Roethlisberger, Drew Brees and Joe Flacco.
Sad state
How miserable has it been for Bucs fans of late? Too often since Chucky left the building, September has provoked draft talk. This is the second straight year Bucs fans have been reduced to draft chatter. In September. That is just sad.
Joe senses a good percentage of Bucs fans have just checked out, in some cases for good. There was so much optimism when Lovie Smith was hired, and Joe totally understands this rebuild — sorry Bucs suits, you are in a rebuild; no more spinning — may take time, perhaps even into a third Lovie season.
Fans were on such a Cloud Nine this winter with all the moves and the draft and talk that originated from One Buc Palace that happier days were here again. For the team to start the season flopping worse than some European kickball player, well, those same fans are simply devastated.
Bucs fans were concerned by preseason results. Worried after the Week One loss. Angry after the Week Two loss. Strung out after the Week Three seal-clubbing. Right now Bucs fans are at their worst from a team perspective: apathetic and just a step away from suspicious.
With all the talk the past few years and the teasing of 2010 and 2012, Bucs fans have just about had it. They are to the point that nothing short of wins is going to win them over. Right now, that's like trying to see the Texas shoreline from Treasure Island.
A string of wins seems far, far, far away.
Looking in the Mirror
Joe hopes the extra couple of days after the Thursday night debacle provided everyone at One Buc Palace, from the suits down to the scouts, time for a long, hard look at everything the team has done this year.
Could any of the five departed offensive linemen who have made starts for other teams have been coached up in the new regime? Was the Darrelle Revis contract really that onerous? Couldn't a defense have been built around him? Was Julius Peppers really a worse gamble than Michael Johnson (who?)? Was it that imperative to wash hands of Mike Williams? Can a non-Tampa 2 defense work better with the talent at hand long-term?
Right now, it sure seems there were more than one or two missteps in player evaluation. How could there not have been mistakes when so many transactions occurred and there has been so much turnover of the roster under the new regime, and yet the Bucs are quite likely the worst team in the NFL as of Sept. 22?
As Joe has typed repeatedly for years: Good coaches adjust. Let's see how Lovie responds.
NFL Thoughts
Chargers: So far the Chargers are looking like a legit candidate to fight Peyton Manning and the Broncos for AFC West supremacy. Philip Rivers was efficient handing the Bills their first loss.
Bengals: Though it is early, the Bengals may just be the best team in the AFC. Once again, A.J. Green leads the way, the best wide receiver in the AFC. Oh, and yes, all Andy Dalton does is win. What, you would rather have Josh McCown?
Crows: Speaking of guys who just win, there is Joe Flacco. Dude gets the job done. Tossed for over 200 yards yesterday. Mock him if you wish. Joe will take him any time.
Lions: The Lions came up big, using a stout defense and an opportunistic offense. In case you haven't heard of this guy before, remember the name of Detroit offensive coordinator Joe Lombardi. He was quarterbacks coach under Sean Payton for years with the Saints. He has really opened up the Lions offense big time. And in case you didn't know, yes, he is the grandson of you-know-who.
Colts: Joe has noticed a simmering backlash against Andrew Luck from the football Twitter sophists. Why? He has retreads for receivers and is one of the best quarterbacks in the NFL. He absolutely shredded the sadsack Jags defense yesterday. You would have thought it was Matty Ice against the Bucs.
Patriots: The Raiders came "that far" from beating the Patriots. A Darren McFadden touchdown for the lead was wiped out due to a holding penalty and the Fighting Belicheats survive.
Saints: Rob Ryan's defense finally showed up, but really, they were going up against a de-clawed cat. Without child-whipping Adrian Peterson, the biggest thing Ryan and the Saints defense had to worry about was Matt Cassel.
Giants: So maybe Tom Coughlin's job is safe? The New York crowd was wailing for the lame Giants this year. What happens? Eli Manning goes out and tosses a pair of touchdowns.
Eagles: This was a helluva game. The Eagles look so damn good. Just think if not for Josh Freeman, the Bucs very well may have had Chip Kelly. Eh, can't change the past.
Cowboys: The pokes had their biggest come-from-behind win. Given all the comebacks the Cowboys have had in their history, that is saying something. Remember how the Bucs choke job at Seattle last year was a kick-in-gut? The Lambs choked away a three-touchdown lead. It was so bad, the Lambs even physically lashed out at quarterback Austin Davis (remember him?).
Cardinals: Who picked the Cardinals to be 3-0? Solid win over San Francisco yesterday. Backup Drew Stanton threw for over 200 yards with a pair of touchdowns and no picks. The Darnell Dockett-less defense was strong holding San Francisco scoreless in the second half.
Chiefs: Just when the Chiefs looked like they were going to stink all year, they go down to Miami and slap around the Dolphins. The immortal Kniles Davis led the Chiefs with 132 yards rushing.
Seahawks: Joe laughs whenever Bucs fans try to claim the Seahawks win with defense. For reasons unknown, people want to dismiss stud quarterback Russell Wilson, who is no Trent Dilfer. Dude just outdueled Peyton Manning for a win in the rematch of the Super Bowl.
Non-NFL Thoughts
1. OK, Joe is starting to get scared of Twitter. The absolute mob mentality (being quite serious here) is disturbing. It is as if folks want laws, justice and order thrown out and folks should be beaten into a pulp in broad daylight. Just because.
There are two targets. One is Roger Goodell.
In Goodell's case, Twitter still wants Goodell fired. For freaking what? What did Goodell do that was so awful? Wasn't a wrong, righted? Isn't that the most important thing? And that the NFL admitted a mistake was made and policies are being changed to ensure there is no repeat? Isn't that what is important here? Didn't Ray Rice get a just sentence for his misdeeds? Case closed as far as Joe is concerned. And the do-gooders on Twitter want Goodell fired. Joe can't help but laugh.
So Goodell, who broke no laws that Joe knows of, who doubled NFL revenue in the past six years, who has done more to grow the game that is easily at the height of its popularity, should be fired? People must live in deranged worlds.
2. Then there is Jameis Winston. This guy is no choirboy. In fact, he may just be a con artist (at best). Whatever the hell happened nearly two years ago in Tallahassee in a really tawdry hassle with a girl, no one may ever truly know outside of those involved. Winston was not charged. He may be guilty as hell, he may be clueless, but we still live in America. He was not charged, the state even investigated and came up empty (don't kid yourselves: There are plenty of Bull Gators and Alabama/Auburn types with the cash and the legal pull who would love nothing more than to see Winston locked up. So if there was anything tangible to stick to Winston, it would likely have been dug up by now.) and still folks want blood. The crap on Twitter was hysterical Saturday night. "Oh, it's obnoxious he is on the sidelines." Then shut your f'ing TV off. The kid was serving his suspension that do-gooders screamed and hollered for. Yet that still wasn't good enough.
3. Joe honestly thinks the Twitter mob would love nothing more than for Goodell and Winston to walk down the street dragging their own crosses, carrying their own hammers and bags of nails before people would shut up.
4. How did Clemson lose to Florida State Saturday night? It was almost as if they were paid off in the final two minutes. That was the ultimate in letting a team hang around. And before you know it, you walk out a loser.
5. Why the hell did Dabo Swinney have his quarterback in shotgun twice needing only a foot for a first down? That's not just insane, but rotten coaching beyond words. No wonder he can't beat Steve Spurrier. Swinney is crazier than Les Miles.
6. Speaking of Les Miles, Joe can never remember the Tigers losing at home to Mississippi State. Joe knew the Bulldogs were going to be halfway decent this year but never dreamed they would beat LSU on the road.
7. So, Indiana beat Missouri. In football. LOL
8. Who thought Alabama would suddenly go Air Coryell? And that Blake Sims would be the quarterback?
9. Will BYU crash the party and make the final four playoff? Nothing seems to slow them down.
10. So we enter the final week of the baseball season and the Cardinals and the Pirates are bringing it down to the wire; 2.5 games separate them. The Pirates have been on fire since getting swept by the Redbirds, winning 14 of 16.