Will It Be A Packed House For Derrick Brooks?
September 11th, 2014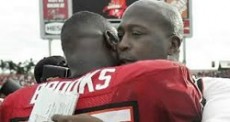 In case you forgot, Bucs icon and Hall of Fame linebacker Derrick Brooks will be inducted into the Ring of Honor at the Stadium on Dale Mabry Highway on Sunday.
Packed house? Incredible demand for Brooks, the game and a free Brooks bobblehead doll? Not really.Given Joe's partnership with TicketMonster.com, Joe's pretty tuned into the secondary ticket sales market. Over the past few days, prices for Bucs tickets at TicketMonster.com have been plummeting far below face value. As of this typing, plenty of tickets for Sunday can be bought without a fee and instantly downloaded for as little as $25.
It's the same scene at StubHub.com, where thousands of tickets are available in all price ranges. Tickets also remain for sale at Ticketmaster.com.
Legions of Bucs fans are likely surprised. Should they be? Nope.
That's just been the reality for Bucs tickets for about nine years or so. In 2005, the Bucs started 5-1 with Cadillac Williams bursting on the scene and Tampa Bay owning the No. 1-ranked defense and winning the division. But ticket demand started its decline during that season. Scalpers weren't doing much business.
For Joe's money, the enhanced TV experience, the chilled economy, lukewarm excitement for the post-glory-years Bucs, fantasy football and a stadium that's becoming outdated are all to blame, if you're looking for an answer as to why Derrick Brooks Day isn't a hot ticket.