Too Much Cam Newton Prep?
September 7th, 2014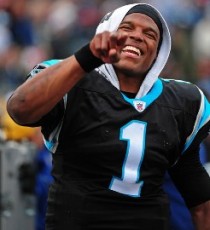 The Buccaneers prepared hard for Cam Newton playing today. They didn't prepare much for Derek Anderson, the former Pro Bowler who actually quarterbacked the Panthers.
That was the word in the Bucs' downtrodden postgame locker room, along with plenty of respect for the job Anderson pulled off.
Linebacker Jonathan Casillas if Newton not playing threw the Bucs defense a curveball.
"Of course, when you expect to play against somebody and then you play against somebody different. I think their game plan was a little bit switched up, you know, but they still did what they needed to do," Casillas said. "We held up in certain areas in the first half and in the second half a lot better showing, but we didn't show up as well as we wanted to do in the first half, which we should have."
Now Joe, too, was confident Newton would play today, but Joe's not the a Bucs coach.
It almost seems like the Bucs weren't prepared for Anderson and how the Panthers might change with him under center.
"He gave us a little bit of issues with, you know, giving the play fake, because they run the ball so well," Casillas said. "They popped the ball right behind some linebackers and in front of the safeties, and that kind of hurt us."
Various Buccaneers acknowledged there was intense preparation for Newton and his absence was a gameday surprise.
Casillas was asked if, perhaps, the Panthers engaged in some gamesmanship with their injury report and the real status of Newton. Casillas gave an indirect but interesting response.
"I've seen it before. I've seen it happen before. The Saints like to do stuff like that," Casillas said.
Whatever the failures were in the Bucs defense today, especially on third down (Carolina converted 6-of-15), they simply can't happen. Not at home. Not against Derek Anderson.