Textbook Backup Blunder?
September 23rd, 2014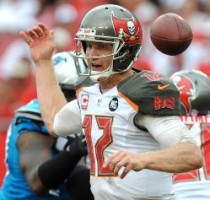 It's gets pretty high energy when notorious chatty former offensive-minded head coaches Brian Billick and Steve Mariucci join forces for their podcast on NFL.com.
One of their topics today referenced Josh McCown, among other notorious backups who went on to flop when handed their own team.
Billick talked about how it's a tradition for the ages, from the hype around the immortal Cody Carlson running Warren Moon out of Houston, to Rob Johnson mania in Buffalo, to recent Kevin Kolb and Matt Flynn flops.
"Everybody gets all giggly, 'oh, this guy's going to be good,'" Billick lamented.
And then he said McCown might be this year's bad news: "We saw Josh McCown, 13 touchdowns, one interception. Some people thought, 'Hey, get rid of Jay Cutler; Keep Josh McCown."
Billick noted how McCown's bruised thumb might give him an incomplete right now, but the message from Mariucci and Billick was clear: backups don't usually pan out. Mariucci explained how watching Flynn in practice left him and many others around the league wondering how anyone thought he was starter material.
Of course, Kirk Cousins and Drew Stanton are this year's hot understudies after three weeks.
Joe's confident the Redskins won't part with Cousins, and Joe sure is hopeful a Drew Stanton Mob doesn't emerge from moonlight shadows of Sand Key and the old oak trees of South Tampa.