Tedford Not Spotted At Bucs Practice
September 1st, 2014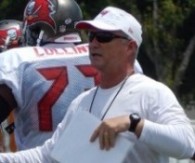 Updated: 3:31 p.m. – Tampa Bay's new-to-the-NFL offensive coordinator wasn't on the practice field today, at least not during the 30-minute window open to media at One Buc Palace.
Jeff Tedford had some sort of medical procedure after the Bucs-Bills game nine days ago.
Joe wishes Tedford well, but Joe can't pretend this isn't a setback for the team.
Yes, Tedford might be taking it easy somewhere and feverishly gameplanning for Carolina on a laptop, but there's been no indication of that from the Bucs organization.
*At his 3:30 p.m. news conference, Lovie Smith said Tedford is greatly involved thanks to technology and made a visit to team headquarters recently. Lovie would not commit to Tedford calling plays on Sunday.