Tedford Is "Back In Town," Not At Practice
September 12th, 2014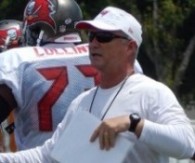 The Buccaneers' recovering offensive coordinator is still only contributing part-time.
After practice today, Lovie Smith said Tedford "is back in town." It's presumed he was out of town at a doctor's appointment.
Lovie said Tedford is "still on schedule" and "nothing has changed" from their plan to have Tedford working in some capacity for Sunday's game against the Rams.
Damn, Josh McCown really needs to grab the leadership reigns and have a great game Sunday in the face of the wacky coaching situation and serious injuries on both sides of the ball.