Stop Clobbering The Offensive Line
September 10th, 2014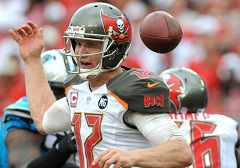 Last year, the Panthers held opponents to 16 or fewer points in 10 — Ten! — of their 16 regular season games. They had a smothering run defense and the led the NFL in sacks. What exactly was expected from the Bucs' offensive line Sunday?
The reality is they weren't that bad.
Joe's had enough of the Bucs' offensive line bashing that he's hearing from various analysts and spreadsheet crunchers.
The Bucs scored two legitimate offensive touchdowns against an elite defense that allowed — whaddya know — two touchdowns a game last season (15 points average).
Sunday's loss, offensively, belongs on Josh McCown's shoulders. His mistakes were brutal.
But some would have you believe that somehow, this heinous offensive line, led to McCown completing 63 percent of his passes, including two (perhaps three) drops by Vincent Jackson. That doesn't happen behind an incompetent offensive line.
Now Joe's not saying the Bucs' offensive line was anything more than average. They weren't, but dropping the blame there is misguided.
What set Joe off this morning is former Redskins and Texans general manager Charley Casserly, of NFL Network, ripping the Bucs' offensive line and pointing the dreaded finger of doom at them.
(You can listen to Casserly's take below via 620wdae.com audio. The Bucs talk picks up at the 5:00 mark.)