Reborn Luke Stocker
September 7th, 2014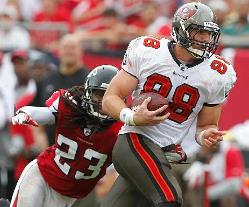 When fan favorite tight end Luke Stocker arrived to training camp, many Bucs fans were counting the days before he was released. Stocker was loathed by Bucs fans not so much for the fact he was always hurt, but he had the misfortune of being drafted by former Bucs rock star general manager Mark Dominik.
And, as is well known from these irrational folks, if Dominik drafted you, then you were a bum.
Stocker never lived up to expectations mostly because he could not stay healthy. That hasn't been the case this summer; he even started the Bucs' first home preseason game.
Though Stocker was clearly regarded as the No. 4 tight end, he was blessed by coaches when fellow tight end Tim Wright was traded.
Now, Stocker can't wait for the new season to start, just like Bucs fans.
"This is always an exciting time of the year," Stocker said. "Definitely the energy we have in the building right now, lot of new faces, new coaching staff, lot of new players, lot of expectations we have for ourselves as a team. We're really excited to get on the field and show that our hard work paid off.

"I think I had a strong training camp, looking forward going to the season healthy after having a full training camp under my belt."
In a sense, Stocker has found new life. He's healthy. He has good coaches for a change. He seems wanted.
If he can pull down a few passes and help the Bucs move the chains on scoring drives, then perhaps the haters will calm down and give Stocker a break, no matter who drafted him.
To hear more of Stocker, click the red button below. Audio courtesy of Joe's friends at WDAE-AM 620.
largely because