Playoffs? Playoffs!
September 4th, 2014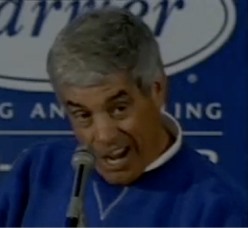 The Bucs haven't seen the playoffs since 2007. And we all know how Tampa Bay has been mired in a playoff winless streak since Chucky hoisted the Vince Lombardi Trophy. An ugly rut.
There, however, is a line of thinking out there that the Bucs could snap that streak this year. Fresh with a proven head coach and a totally revamped lineup, Bucs fans are on their edges of their seats, like experiencing an unexpected appearance by Rachel Watson.
One such person who believes the Bucs may be playing meaningful games in January is Elliot Harrison of NFL Now at NFL.com. He thinks the Bucs are on the cusp and the player who may just get them over the hump is tight end Austin Seferian-Jenkins.
"For the Tampa Bay Bucs, we hear about Vincent Jackson. We hear about Mike Evans, because he was a first round pick. Doug Martin, everyone is waiting for him to come back from injury," Harrison said. "But [ASJ] is a guy who is a huge target for Josh McCown both over the middle and in the red zone.

"I love these matchups. It is like rolling three trees out there. I think this guy [ASJ] can be a big, big bonus to their offense."
At times during training camp Joe's jaw dropped at the plays ASJ was making. It was just unfair for him to go against a linebacker. Going against a cornerback? Please.
Joe won't repeat the story about one of his first encounters with ASJ, but let's just say it's been a long time since any player, much less a rookie, left such an impression about what kind of heart he has.
Joe has a feeling Bucs fans are going to fall in love with the guy.