"Panthers Are Better At Wide Receiver"
September 6th, 2014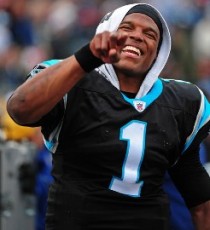 For some reason, Bucs fans take great comfort in the Panthers, and their 26th-ranked passing attack last year, losing the meat of their receiving corps, 35-year-old Steve Smith, Brandon LaFell and Ted Ginn, Jr.
Who knew LaFell and Ginn were stars? Joe must have missed the memo.
But Joe hears it over and over, widespread Panthers doubting because they lost their receivers and didn't replace them with much.
Well, longtime Panthers beat writer David Newton thinks the opposite could be true — that the Panthers have upgraded their receiving corps. Newton explained in a BSPN preview of the Bucs-Panthers game on Sunday.
You think [Steve] Smith was the best player in franchise history?  I truly believe he is, although he probably would have a hard time believing me after what I'm about to say: The Panthers are better at wide receiver today than they were this time a year ago.

It's nothing against Smith, but he's 35 and admittedly not a true No. 1 receiver anymore. First-round draft pick Kelvin Benjamin is. At 6-foot-5 and 240 pounds, he is the big target quarterback Cam Newton hasn't had. Benjamin is deceptively fast, too. But the biggest thing is he makes plays, whether it's over the middle in traffic or on the outside. If teams double-cover him, that will open things up for tight ends Greg Olsen and Ed Dickson in the middle. It also will open coverage on Jerricho Cotchery and Jason Avant, a pair of veterans I believe to be more dependable than Brandon LaFell and Ted Ginn Jr. were last year. If the Bucs choose to single-cover Benjamin, Newton will look for him often. I know rookie receivers tend to struggle, but this one has a special feel.
Yes, Cam Newton still has his top, trusty target on the field, Olsen, and rookie Kelvin Benjamin has an awful lot on his shoulders as a No. 1 receiver as a rookie. That further makes the Bucs getting the Panthers in Week 1 a bonus. But Joe would agree that Cotchery and Avant (a combined 84 catches and 12 TDs last year) likely are upgrades to LaFell and Ginn.
Regardless, the Panthers receivers didn't bring a whole lot to the table last season, so Joe's not sure what all the sky-is-falling fuss is about when it comes to the NFC South champs.
The Bucs are going to find a way to score second-half points and hit Cam Newton and contain him, three things they couldn't do last year.