Panthers 20, Tampa Bay 14
September 7th, 2014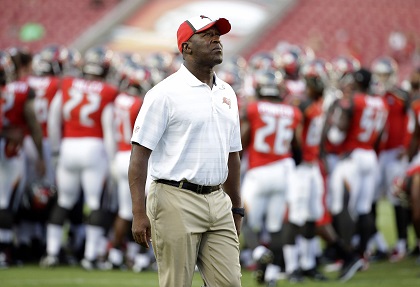 Why didn't the Tampa Bay Buccaneers show up in the first three quarters today?
Why? It was opening day with a veteran coaching staff that's supposed to know how to motivate.
Joe wants to know. Bucs fans were treated to a dreadful performance, one so heinous the Mike Glennon Mob revived for a while and some fans wanted Lovie Smith's pants size so they can build him a custom made hot seat.
Yes, the Bucs made things close, but in the end the game was a nightmare for fans who yearned for the new season for more than nine months.
Joe can only imagine how quiet it must have been in Team Glazer's suite during those first three quarters.
Derek Anderson, Derek Anderson, just carved up your beloved Bucs.
Vincent Jackson had two early drops, maybe a third if you're a tough grader. Josh McCown, the other offensive captain made rookie mistakes, including two needless interceptions and poor ball security. Bobby Rainey caught the fumble bug, too.
Props to reserve guard Garrett Gilkey, who came on for injured Logan Mankins in the second quarter and did a heck of a job. Chris Owusu also made a nice grab in the corner of the end zone for his first career touchdown. New fullback Jorvorskie Lane flashed with his one carry for 54 yards. Solomon Patton was solid at punt return. And at least McCown bounced back to give the Bucs a little momentum into Week 2.
The Bucs' defense? Well, for now, Joe will just say the pass rush wasn't acceptable, and shoddy tackling hurt, as did lousy hands late by Dashon Goldson. You could have put the game away, Hawk!
Stick with Joe all through the night for so much more out of this ugly game and the unhappy locker room.