Michael Johnson Is "Walking Better"
September 25th, 2014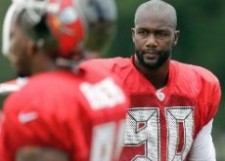 Damn, the Bucs need a pass rush. It's been the same song since Greg (later Stylez) White had eight sacks and seven forced fumbles in 2007, when the Bucs made the playoffs behind the strength of the NFL's No. 3-ranked defense.
Since that season, quarterbacks facing the Bucs haven't had enough to fear.
Enter big money free agent Michael Johnson (who?), the big fish harpooned by the Bucs in March. Johnson didn't do much in training camp, preseason and his regular season snaps that have been cut by an ankle injury.
There's not much hope for Johnson to earn his cash anytime soon. Today, defensive coordinator Leslie Frazier said Johnson was "walking better."
That's about as discouraging an unofficial injury report one could get.