McCoy's Hand Wasn't Wrapped
September 16th, 2014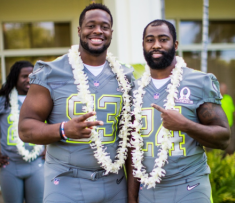 A rather somber Gerald McCoy chatted with media on the locker room of One Buc Palace today about his broken left hand.
Joe found it interesting that the mighty hand was not wrapped. Not even a Band-Aid.
That sure seemed like a great sign.
The hand, however, is busted. McCoy said it's a bone in the left portion of his left hand. And McCoy said it would be hard to play with the hand the way it is now, less than 48 hours after the injury.
Joe sure got the feeling McCoy's return won't last too long, as in not more than two games.
Regardless, it's a big decision for the Bucs. Joe would let it heal. McCoy said he's doing whatever team doctors tell him to do.