McCown: "For Sure" Planning For Sunday
September 24th, 2014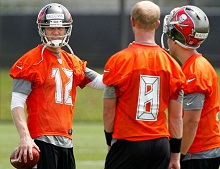 While Joe is ready for Lovie Smith to do the smart thing and declare Mike Glennon starting quarterback for the rest of 2014, that hasn't happened yet.
And now Josh McCown is talking about preparing his wounded thumb for Sunday's visit to Heinz Field in Pittsburgh.
There have been conflicting reports on the severity of McCown's injury that caused him to leave the Bucs-Falcons debacle just before halftime Thursday.
The latest update came from McCown last night on the Buccaneers Radio Network. He explained that he bruised the thumb twice in the game and is on the comeback trail.
Host TJ Rives: You are still battling. You're still trying to play in the game Sunday.

Josh McCown: For sure. That's the thing, like I was saying about the Thursday night game. The good thing that came out of that, probably the only good thing, was that the game was on Thursday. And so we had a little longer week, so to speak, to heal from injuries. So we're making progress. We're making progress. So we'll see how it goes.
Look for an update this afternoon. Will McCown practice today? Will the Bucs officially call up Mike Kafka from the practice squad? Lovie addresses the media late this afternoon.