Mankins Is Smiling, "Much More Comfortable"
September 4th, 2014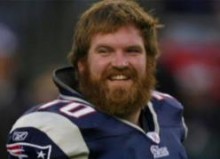 The mean, nasty veteran in the Tampa Bay locker room, Pro Bowl guard Logan Mankins, is a soft spoken guy off the field
Mellow. Confident. But after the trade that sent him to Tampa last week, Mankins seemed in stunned disbelief, literally a state of shock.
Joe was pleased to see Mankins smiling today at One Buc Palace and talking about how "much more comfortable" he is now that he's gotten to know his teammates.
This is great to hear — and see — and bodes well for Sunday's season opener. Enjoy Mankins from the locker room today, via SportsTalkFlorida.com video below.