Major Wright Returns; Sims To Designated IR
September 3rd, 2014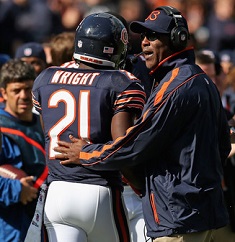 The Bucs cut and made Major Wright available to the rest of the NFL, and it seems Lovie Smith is happy Wright didn't find a new employer.
The veteran safety, and veteran of Lovie's defenses in Chicago, is a Tampa Bay Buccaneer again.
Wright was re-signed today when the Bucs official played rookie running back Charles Sims in the fancy injured reserve/designated for return list. That means Sims doesn't occupy a roster spot but can return to play in Week 9, if healthy. At that point, he'd be on the 53-man roster.
Wright had a bad back in preseason, but teams don't have to detail injuries when it's not the regular season.
Joe assumes Wright is healthy now, but official word will come when the Week 1 injury report is released later today.