Lavonte David No. 7
September 2nd, 2014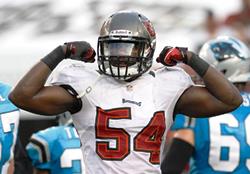 Joe knows it really irritates many Bucs fans that stud linebacker Lavonte David got snubbed for the Pro Bowl last year. Joe doesn't give a damn about the Pro Bowl at all, but still, it was an embarrassing omission.
It was such a slap in the face, it seems as if national NFL types have sort of used David's slight as a crusade to not let this happen again.
Take Nick Kostos of Bleacher Report, for example. Kostos, also the executive producer of "Schein on Sports," hosted by fan favorite Adam Schein, heard on Mad Dog Radio, part of the family of sports networks exclusively found on SiriusXM Radio, claims such a terrible swing-and-miss for David should not happen again.
Last season, Tampa Bay Buccaneers linebacker Lavonte David didn't make the Pro Bowl, which would be like Iggy Azalea being snubbed from a party for the hottest women alive.

David (who was named first-team All Pro) has been celestial for Tampa Bay since being selected in the second round of the 2012 draft. He's garnered nine sacks and intercepted six passes to go along with 284 tackles, a preposterous number for a second-year player.

With the arrival of new coach Lovie Smith, the Buccaneers are transitioning to the Tampa 2 defensive scheme, and David will be a key cog in the machine. His ability to both stop the run and drop back in coverage will be on full display. And the smart money is that the Pro Bowl voters will have no choice but to send David to Hawaii come next February.
Part of the reason David was snubbed was that, well, sadly, too many thought of David for that bonehead play against the Jets, which is really a shame.
It also didn't help that David has never played for an NFL winner. If that changes this year, especially with Lovie Smith being the Bucs coach, David will be known for the incredible linebacker that he truly is, not for a fluke play made in New York.