Judgment Night For Alterraun Verner
September 18th, 2014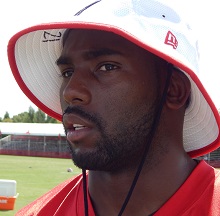 The big-money free agent who replaced Darrelle Revis, Pro Bowler Alterraun Verner, has looked darn good in his first two Bucs games.
Verner can cover. He can tackle. And he's 100 percent healthy after a late July hamstring pull.
But Verner really hasn't been tested the way he'll be tonight. Julio Jones is lurking. Banged up Roddy White is always tough and crafty. Harry Douglas has had huge games against the Bucs and is coming off a career year. Devin Hester appears revived as a receiver.
A game like this is one in which the Bucs have to get their money's worth from Verner. Yeah, he'll get beat at least a couple of times if the Bucs can't manufacture a pass rush, but he should make some plays.
This is the national stage. Verner is "The Man" in the secondary. The guy needs to show he's every bit as much the Pro Bowler that Jones and White are.
Joe's looking forward to it.