Joe Talks Change, Defends Glennon
September 23rd, 2014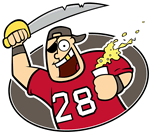 It was the heated matchup many were awaiting. This evening, Joe sat down with the dean of Tampa Bay sports radio, Steve Duemig of WDAE-AM 620.
Duemig was very unhappy with Joe moving all-in on Mike Glennon immediately — and permanently — replacing Josh McCown as the Bucs' starting quarterback.
Joe staunchly defended the quarterback switch. Many other topics were touched on, as well.
Enjoy.