"It's A More Difficult Thing Than People Realize"
September 10th, 2014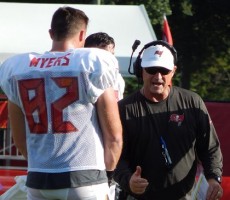 Yes, not having Jeff Tedford available to call the Jeff Tedford offense was a real issue for the Bucs on opening day.
Marcus Arroyo put "a different spin on the way it goes," says Josh McCown.
McCown made it clear last night on his Total Access radio show on WDAE-AM 620, that the temporary loss of Tedford — or any offensive coordinator — is significant.
"As a play caller, it's a more difficult thing than people realize. When you function for a while, during offseason or whatever, without being the play caller, and now all of a sudden you're asked to do that, it's not an easy thing," McCown said.
The Bucs starter praised the fill-in team for Tedford against Carolina. Issues easily could have been expected but never materialized.
"I would think in those situations you might experience delays of game and things of that nature. But we really flowed pretty seamless as far as procedurally and stuff like that. And that was huge for us," McCown said.
Today at One Buc Palace, Joe asked McCown about whether he has more comfort and confidence with Tedford in the game plan this week. McCown said he does.
Yes, the Bucs put a calm, happy face on the absence of Tedford and quarterbacks coach Marcus Arroyo stepping in. But that was a thin slice of baloney. The offensive coordinator is paid handsomely for a reason, and his value — and absence — was magnified on opening day for a new regime.