"I Didn't Play Too Well"
September 30th, 2014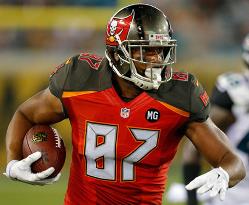 In the Bucs' locker room today, safety Dashon Goldson was asked to name the toughest tight ends in the NFL.
He gave a few names — interestingly, none were tight ends that roasted the Bucs through the first quarter of the season. But then Goldson quickly and genuinely referenced how the Bucs' young tight end could hit that level soon.
Of course, Goldson was referring to manbeast rookie tight end Austin Seferian-Jenkins, who returned from two weeks off nursing a bum ankle to shine in Pittsburgh.
Seferian-Jenkins had three catches for 44 yards, including a big 21-yard snatch on a 2nd-and-23 throw late in the game. He also was open in the end zone in the fourth quarter, but Mike Glennon threw far to low to take advantage of the 6-foot-5 Dunkaneer.
This afternoon, Joe asked Seferian-Jenkins how he played Sunday. And the big fella wasn't happy.
"I didn't play too well," Seferian-Jenkins said. "I thought I could have done a lot of better. You know, the details and techniques of things I didn't play well enough, luckily well enough that I could help them get a win. We'll get back it at this week and we'll get better. I'll get better."
His comments reminded Joe of when Seferian-Jenkins sternly proclaimed, "I came here to dominate." He's an exceptionally driven young guy.
As for his ankle health, it's not 100 percent, so he told Joe today at One Buc Palace. "I'm getting better. I'm working towards it."