"Good Teams Are Resurgent After Losses Like That"
September 25th, 2014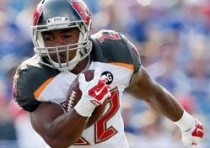 So what are the Bucs made of? What kind of character and will is in this Gerald McCoy-led locker room?
More answers are forthcoming. So far, reality hasn't looked good.
The Bucs are 0-3 and coming off a game that left numerous Buccaneers using the word "embarrassing." And that was appropriate. What concerned Joe most was the lack of leadership. How does an effort like that happen in Week 3 of a new regime, against a defensive line that isn't special?
Former Bucs tight end Anthony Becht is confident Sunday's game against the Steelers will reveal a lot about the Bucs.
"Good teams are resurgent after losses like that. I promise you that. We're going to find out a lot about the character about this team, the staff and everything about it coming up against Pittsburgh," Becht said on WDAE-AM 620 this week.

"Pittsburgh's coming off a big win [Sunday night] against Carolina. They look pretty good. It's not going to be easy.

"You can do a lot of things at practice and you can shake a lot of things up, but you got to execute on gameday. We're going to have to get that from every one of those players on the Bucs football team."
Joe couldn't agree more. The Bucs' offensive line is going to have win its share of 1-on-1 battles. And Doug Martin is going to have to come out running angry and hard, like it's 2012.
The Bucs are going to have to have some offensive balance to have a prayer in Pittsburgh.