Glennon: No Talk Of QB Change
September 7th, 2014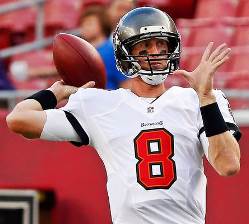 It was near the end of the third quarter. The Bucs offense was dreadful beyond words. Josh McCown had been so careless with the football that even Brett Farve was screaming from his Mississippi home about McCown's inability to protect the ball.
The stunts McCown pulled would have resulted in a high school sophomore quarterback getting his arse chewed out if not benched — and for good reason — much less a 35-year old veteran of NFL circles.
So when McCown dropped the football, picked it up, and in desperation threw the ball to Brandon Myers to save a tackle for loss, which ended up being his second grotesque interception of the day, Joe Twittered that McCown should be pulled.
After all, Joe saw Trent Dilfer benched for doing less than the tomfoolery McCown was trying to pull. This was the first time since Dilfer played that Joe can ever remember a starting Bucs quarterback should be benched mid-game.
After that interception, Joe monitored the Bucs bench, waiting for the hero of the Mike Glennon Mob, Mike Glennon himself, to start warming up.
Glennon never took off his Bucs cap and, instead, seemed to encourage McCown to play better. Later in the locker room after the game, Glennon said that's exactly what he was doing and there was zero discussion of him going into the game.
"None of that," Glennon said. "Josh did a great job of getting us back in the game."
Joe has to be fair. Glennon is right. McCown looked so pathetic through the first three quarters and something clicked in the fourth quarter for him. And, in turn, for the Bucs, as they launched an impressive comeback.
Glennon said his chat with McCown after McCown's gruesome last pick was nothing out of the ordinary. Typical quarterback talk, talking about both the offense and the defense as usual.
McCown "showed he could come back," Glennon said.
McCown later said the loss Sunday was "on me."