"Full Speed" On Monday For Jeff Tedford
September 20th, 2014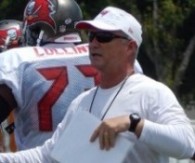 Joe's pulling for offensive coordinator Jeff Tedford to get healthy. Seeing him coach again soon would be nice, too.
Lovie Smith, in a new video on Buccaneers.com. offered hope for Tedford's speedy return.
Bucs staff writer Scott Smith sat down with Lovie and asked the head coach to comment on Tedford returning back at "full speed" on Monday, Sept. 22. And Smith asked about the potential impact of Tedford's return. Lovie didn't back off the question, which he's done previously.
"It's like when you lose a starter and you have a backup player, a backup plan, a backup player move in, it's still not the original way that you wanted it. So it would be definitely a plus to get Jeff back," Lovie said.
Joe will believe in Tedford's return when he sees him working at practice and taking on full coordinator duties, but certainly this was encouraging to have appear on the Bucs' official website late last night.