Derrick Brooks Day
September 14th, 2014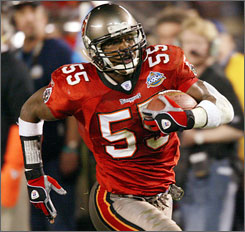 This will be a short post because there is really nothing to write about. Bucs Hall of Fame linebacker Derrick Brooks can't be summed up in a few paragraphs, and Joe's not about to type a long tome.
Brooks is the greatest linebacker in Bucs history and perhaps the best outside linebacker in NFL history. Jack Ham, widely considered the greatest outside linebacker, was great but not sure Ham was any better than Brooks. Ironically, Brooks molded his game to mirror Ham's. Brooks likely surpassed Ham.
Joe can't think of anyone who covered receivers like a blanket in pass coverage, and rattled ballcarrier's ribs against the run better than Brooks. Talk about an all-around player.
Joe can still vividly remember Brooks driving Michael Vick, then of the Dixie Chicks, bananas. It may have been Brooks' best game. Vick simply could not escape Brooks no matter what he did or what he tried. It was futile.
Brooks was part of one of the greatest turnarounds in NFL history, from a laughingstock of a franchise to an annual contender to, finally, a Super Bowl champ. It was fitting that Brooks' pick-six sealed the franchise's first Super Bowl title. Who else?
Brooks personifies Mr. Buccaneer, Lee Roy Selmon, so much. Selmon was a pillar of the community and you could not find anyone to utter a bad word about him. Brooks is the same. In fact, Brooks has picked up the torch from the late, great Selmon. When fans think of the ultimate Buccaneer, both on and off the field, the vast majority of folks think of Brooks.
Today, at halftime, No. 55 is retired. No one else will ever wear that number again.
Congratulations, Derrick. As Mean Gene Deckerhoff may say this afternoon, "You are the greatest Buccaneer alive!"