Brooks Predicts Victory Against Carolina!
September 3rd, 2014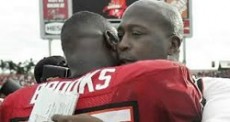 New Hall of Famer Derrick Brooks got his weekly football season show off to a fun start today with the dean of Tampa Bay sports radio, Steve Duemig of WDAE-AM 620.
Joe was out there on Clearwater Beach to soak in the program and talk to Brooks.
The Bucs icon isn't usually one for grand predictions, but he called a Bucs victory across the Tampa Bay airwaves.
"I really expect us to get off to a fast start and get a win," Brooks said of the Panthers-Bucs opening day matchup. "Obviously, you know, Cam struggling healthwise, I think that's going to affect their football team to a certain degree because now he's limited in his throws, and what he's going to be able to do and not scramble as much. Because he's hurt us with his legs more than his arms over the past year.

"I think our defense is up for the challenge and expect a low scoring game because Carolina got a very good defense, as well. But I do expect us to win a very low scoring game."

As for the Bucs looking to drill Cam Newton in his cracked rib, Brooks explained that's a non-factor.

"It's kind of hard to target," Brooks said. "He's going to get the ball out. When you're going for a sack, you're going for a sack, you're not aiming for a body part. You're trying to get the ball out. This team has been about turnovers. So they're going to do all they can to get turnovers. Forget aiming at a body part. Whatever can create a turnover is what this defense is going to be all about. Because creating turnovers equals wins."
All the optimism feels great, but the Bucs need offense. Tampa Bay was a turnover-forcing machine last season under Greg Schiano, who grinded the Bucs every single practice on various turnover drills. But all those forced turnovers were wasted on the worst offense in the NFL.
Enjoy Brooks' full broadcast below. Joe will share an interesting excerpt from it tomorrow.