"Bad Blood" Between Falcons And Bucs
September 16th, 2014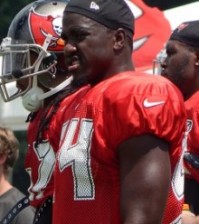 Lavonte David might be the most peaceful mellow guy Joe has met who is not smoking pot or popping downers.
David is a calm, reasoned, level-headed, polite but intense guy.
So it was noteworthy when David told the Atlanta Journal-Constitution that there's "bad blood" between his teammates and the Falcons. David is more of the kind of guy to say every game is the same.
Q: Why are the games between the Bucs and the Falcons always so physical and close?

A: It's a division opponent. When you are going against a division opponent, it's going to always be a tough football game. (There's) some bad blood between the two teams. There's some history in this game. It's always going to be a battle when you play a division opponent. Atlanta is home so they've got the upper hand right now. We just have to come with our A-game
Joe's not sure why there's "bad blood." But there's often a good share of hate between division rivals.
The Bucs and Falcons split games last year, winning in Tampa with Mike Glennon absolutely torching the Falcons. Glennon was a stunning 20-of-23 for 231 yards and two touchdowns en route to a 41-28 Bucs victory.