Would Richie Incognito Come Glazer Approved?
August 25th, 2014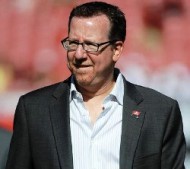 We searched for a man who would not only command respect among his players, but stand tall as a symbol for our team in this community. It was easy, not because we knew Lovie from his previous time here, but because he fit our criteria perfectly. — Bucs owner Bryan Glazer, January 2014.
Yes, the Bucs are visiting today with Richie Incognito, the notorious 31-year-old unemployed guard who makes Mike Williams look like a mischievous Boy Scout.
This afternoon, Lovie Smith was peppered by local media on why former Pro Bowler and slur-hurling Incognito is being studied closely by the Bucs now but wasn't earlier this year. (Keep in mind unrestricted free agents Jamon Meredith and Oneil Cousins were signed to play guard this offseason.)
Lovie didn't really offer a direct answer to the question of, 'Why now?' (You watch Lovie react here.)
Of course, the answer should be clear. The Bucs are hurting for acceptable guard play so they're going where no other NFL team has gone —  into the sewer to sniff Incognito.
Joe pulled the above quote from Bryan Glazer when he introduced Lovie as head coach in January, and it makes Joe wonder whether Team Glazer would approve of Lovie signing a confirmed evildoer like Incognito.
Is that what the Buccaneers want "as a symbol for our team in this community?"
Joe can't speak for Team Glazer.
Greg Schiano said one of the "mandates" when he was hired was to clean up the team's image. So it's pretty darn clear to Joe that Team Glazer wants a great reputation, a prideful image, one players fans can be proud to support. Yes, these were the same owners who let rockstar general manager Mark Dominik re-sign serial sleaze Jerramy Stevens, but it sure seems like things have changed since then.
As Lovie said, Incognito is only visiting. No need to overreact. But a visit is still a statement, just like the statement Lovie made when he didn't visit with Incognito weeks or months ago.