Will The Bucs Shop For A Running Back?
August 15th, 2014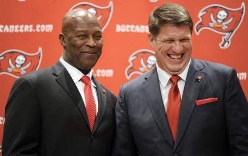 Injured and now lost rookie running back Charles Sims was drafted for a reason. He was going to play. His sweet hands and versatile style were going to be key cogs in the Jeff Tedford machine.
That's why the Bucs drafted Sims so high, investing a third-round pick, which was a stout price in a league that has devalued running backs greatly.
Damn, running backs aren't even drafted in the first round any longer. So the Bucs paid handsomely for Sims. He wasn't going to ride the pine.
Now Joe's wondering whether the Bucs will look to replace Sims? Every darn season good and great running backs are scored off the scrap heap. These are guys who can contribute big time and even become stars. See LeGarrette Blount 2010, among others.
The Bucs might desire better hands out of the backfield immediately. Hands aren't a strength of Doug Martin (good not great), and Jeff Demps hasn't exactly had sticky fingers through training camp. Bobby Rainey is an awfully small target and not a standout pass catcher, and it's unclear what the regime thinks of seemingly buried Mike James, who Joe thinks is a hell of a football player.
It'll be very interesting to see what Jason Licht and Lovie do next at running back. There's no reason to think they're just going to relax and rely on the remaining crew Greg Schiano men.