"What Rush?"
August 21st, 2014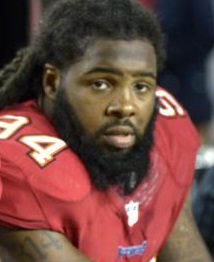 "Our rush? On the defensive line? What rush?" — Adrian Clayborn, when asked to "rank" last year's pass rush.
"We wasn't jelled together, we [wasn't] working together. A lot of stuff went on but I expect better this year," he said.
Clayborn went on to say last year's pass rush was geared more toward stunts and confusing people, presumably opponents, rather than the legions of fans and ex-Buccaneers who still scratch their heads.
Keep in mind Clayborn told Joe yesterday that he really didn't know what he was doing at defensive end last season when he played the left side of the line.
Ahh, the sweet smell of improved coaching. Enjoy Clayborn's comments via SportsTalkFlorida.com video below.